It's here – the app technicians have been waiting for…
The Workshop Hub has been launched!
---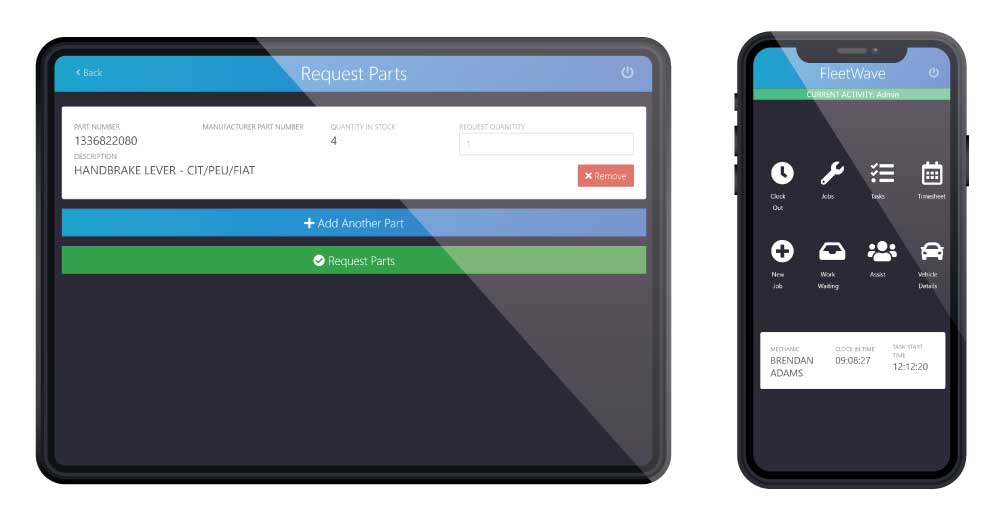 The Workshop Hub is the ideal tool to support your technicians, having been designed for complete ease of use through simple one-touch commands.
This web-app tool that can be conveniently accessed via a tablet or smartphone – handy for completing tasks on the shop floor or remotely, out in the field.  Tasks are then automatically communicated through to your FleetWave system, keeping everything up to date.
With many reasons as to why The Workshop Hub should be part of your technician's tool kit, we've picked out five key features:
1. Create and view job cards/ work orders
Technicians can streamline productivity by easily viewing job cards/ work orders. Each one is complete with all associated information about a vehicle.
Additional cards can be created quickly, simply by entering a vehicle registration number. The app seamlessly trawls through your FleetWave system to assign the vehicle to a job card/ work order in several easy steps, as shown in the screenshots below:
2. Complete inspections
Configurable vehicle inspection documents can be created for completion by your technicians. Compulsory sections that need to be filled in before submission help improve compliance – no more missing paperwork, information or ineligible writing!
3. Request and allocate parts
Request parts for jobs from your inventory or create new orders from existing suppliers.  Managers have the ability to authorise parts orders before being processed which removes the risk of any unexpected budget spend!
The screenshots below demonstrate how easy this process is: 
4. Assist on jobs
Workshop managers can allocate more than one technician to a specific job by the simple touch of a button. The software recognises hours completed by each technician and uses this to automatically generate timesheets –  ideal for helping payroll departments make correct staff payments. 
5. Pick up work waiting
Reduce unproductive work hours through this app. Unassigned work can be created and then stored ready for a technician to pick up once they have spare time. This is a great boost to overall efficiency and helps to evenly distribute tasks around the entire workforce.
We have extensively tested out in the workplace with help from some of our clients and was very encouraged by the feedback.
If you would like to find out more about the abilities of the app, arrange a demonstration or discuss pricing options, please get in touch.
Alternatively, download our brochure by clicking the image below