FleetWave Technician
Technician & workshop app
Quickly and easily manage maintenance tasks: workload, activity, stock management, compliance – and much more, with our superior technician and workshop app.
The workshop software technicians love
Designed with your technicians in mind, our innovative app helps to streamline your workshop operation.
Giving your technicians the flexibility to view and manage allocated tasks – whether in the workshop or out in the field – your people can quickly record activities, add stock, track time, view repair records and much more.
Learn quickly
Our intuitive software is designed to work seamlessly with smart devices, desktops, and laptops.
Easy task tracking
Your technicians can clock in and out at the touch of a button to enhance efficiency and produce detailed timesheets to help measure productivity.
Quickly view workloads
You can access assigned workloads in a clear, expandable list with detailed job specifications.
Create job cards
Create new job cards directly from the app and effortlessly search for your vehicles in FleetWave's database.
Request parts
You can easily request parts through the app and send them to managers for approval.
Complete inspections
Create configurable vehicle inspection sheets for your technicians to fill out with the ability to capture signatures.
Pick up work waiting
All open but unassigned work is stored in a list for your technicians to easily choose tasks, in priority order.
Assist on jobs
Assist on jobs that require more than one technician so that your staff timesheets track correctly.
Want to find out more?
If you'd like to discuss what the FleetWave Technician can do for your business, let us know!
Request a demo
Want to learn more?
For more information, take a look at our FleetWave Technician FAQ's.
Download the FAQ's
SOLUTIONS
Simplify administration
The Technician app is home to all the tools that your people need to complete assigned jobs and workshop tasks. It gives your technicians the ability to:
Easily open assigned jobs
Upload images and descriptions
Add and request parts
View detailed vehicle histories
Search vehicles and create job cards
Assist other technicians
Automatically track productivity
Keep a close eye on your workshop activity with the Technician App.
Our intuitive app connects directly with FleetWave, so you can easily view your workshop activity at any time of day.
Automatically generate timesheet reports that detail both productive and non-productive tasks: training, lunch, admin, job assistance, and assigned jobs.
Keep everything secure with unique usernames, password, and pin codes for your technicians.
Go paperless
Eliminate the time and cost associated with paper processes.
The Technician App allows you to complete vehicle inspections electronically, giving you the tools to:
Conduct touch-enabled inspections to reduce the risk of errors
Build custom forms or choose from templates
Maintain accountability with signature capture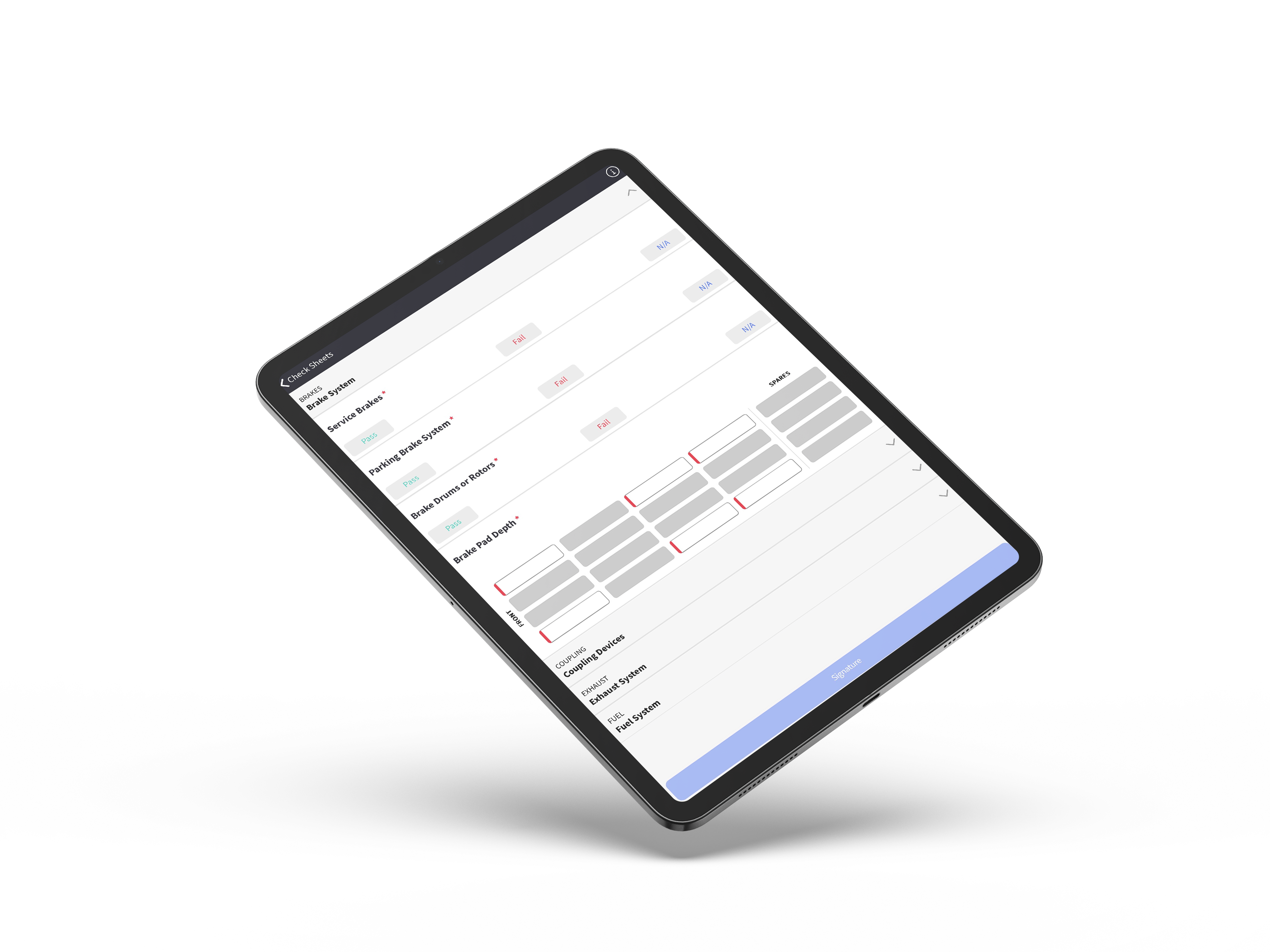 Ready to bring your workshop management up to speed?
Let us know and one of our Sales Development Representatives will be in touch!
See pricing
Resources
You may also be interested in…