Learning Zone
The Effects of Driving on Health
How are your employees affected by spending long hours behind the wheel while at work, and how can you keep them safe? These are the key issues to consider…
We've looked at some of the common conditions that could be affecting your drivers and offer some simple solutions to help keep them safe.
 1. Fatigue
Fatigue doesn't just affect those employees who drive all day making deliveries or chasing sales appointments – a late finish attending a corporate evening, driving later at night or a lack of sleep are all contributing factors towards being fatigued at the wheel.
Any impairment to the decision-making process creates risk and reduces the ability to stay safe on the roads. It's estimated that 20-30% of fatal crashes on Australian roads are due to fatigue. 
So, what advice should you give to your staff to avoid fatigue?
Advise them to get plenty of rest before they embark on a long journey.
If they begin to feel tired during a journey, tell them to stop! Get them to pull over safely and get out of the vehicle – they could go for a walk, get a coffee or energy drink and take in some fresh air.
Always ask them to plan in rest breaks on long journeys.
2. Defective eyesight 
According to research, an estimated 2,900 injuries on our roads each year are caused by drivers with poor vision.
An eyesight test will determine if your employees need to wear glasses or not for driving – make sure you check your employees every two years.
Driving at night increases the chances of an accident due to limited vision and the headlight glare from other vehicles. Make sure that those employees that do need to wear glasses or contact lenses to drive actually wear them!
3. The effects of stimulants on driver health
You should stipulate and endorse a policy on drinking and driving when you first employ someone. Around a third of all fatal road crashes in Australia are due to drink driving. 
Trying to calculate how much alcohol is in the bloodstream in relation to how much has been drunk should never be relied upon. Drink affects people at different rates depending on several factors. By far the safest option is to simply not drink and drive.
When talking about driving under the influence, it's easy to assume that we mean drink, but this isn't always the case. Both prescription and over-the-counter drugs can have a negative effect on your response reactions. In these circumstances, we recommend that employees do not drive.
That's why it's important you urge your employees to read the information sheet provided or check with their doctor or pharmacist about the effect they may cause on driving ability.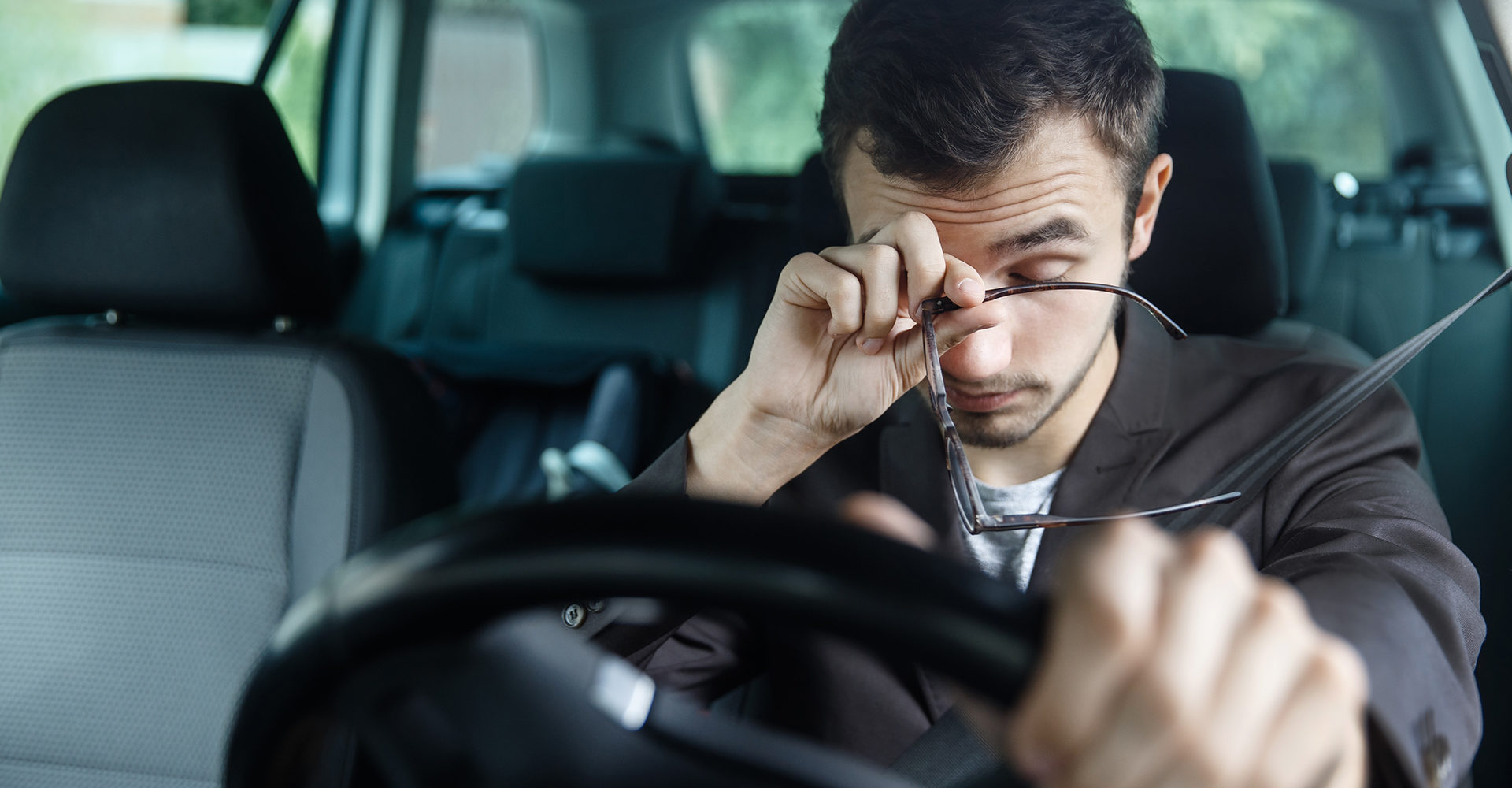 4. Physical health and driving ability 
We know that poor driving posture can increase the chance of physical health problems such as lower back pain, joint stiffness and muscle tightness. To improve your employees' posture in the driving seat, aim to:
Make sure that the seat position is correctly adjusted with the back-rest set slightly backwards.
Set the steering wheel at the correct height to allow for a light bend of the arms. Keep elbows in a comfortable, relaxed position.
Hands are best kept at the '20 to 4′ clock position on the steering wheel to keep the shoulders relaxed.
Try to maintain a relaxed driving position to reduce pressure on your spine and prevent cramp in your legs.
Advising your employees to take regular breaks every couple of hours or so can be a great help. Getting them to get out the vehicle and stretch their legs can help alleviate the symptoms of poor posture and minimise the risk of cramp by improving blood circulation.
5. What can you do to support healthy drivers?
Firstly, make sure that your policies and procedures are in place by working alongside HR and health and safety departments. Fleet management software can be a great help in ensuring that training updates and records are kept up to date and stored securely. 
These can be included as part of an initial induction and ongoing training initiatives:
Continue to raise awareness through internal communications and training plans.
Conduct driver risk assessments.
Accessibility to health checks.
Encourage and monitor eyesight tests.
Incorporate managing stress into training sessions.
6. Conduct regular driver licence checks
Fleet management software can help manage your 'high-risk' drivers. The system can keep track of driver policy compliance and analyse risk, profile accidents and driving offences to analyse training requirements and reduce risk.
You may also be interested in