News
Our Journey to Sustainability
Chevin has been part of the fleet industry for over 30 years, and in that time we have witnessed a lot of change. In particular, an increase in awareness on the impact the industry is having on the environment.
Due to efficiency improvements, electrification and greater use of biofuels, positive steps have been taken to lessen this impact. Global transport emissions increased by less than 0.5% in 2019 (compared with 1.9% annually since 2000), showing that targeted action can produce tangible results.
However there is still much work to do. Transportation is still responsible for roughly a quarter of all direct CO2 emissions from fuel combustion, with road vehicles accounting for nearly three-quarters of these emissions.
Our journey so far
..
As an organisation we believe that creating a more sustainable world is essential for future generations to thrive and will continue to carry out initiatives that are environmentally responsible.
Our CEO, Ashley Sowerby, states: 'We are committed to continuously reducing the impact our company has on the world around us. We have consistently moved with times in terms of environmental initiatives and adopted ways of working that are kinder to the environment and benefit society as a whole.'
Some of our environmental initiatives include:
.
2013
In 2012 we began renovating The Old School House to transform it into office space for our UK Headquarters. We took this opportunity to make greener decisions with the materials used and had 80 solar panels installed on the roof, which generate on average 15,000 kwh per month.
All rooms have motion sensor switches installed which reduces both our electricity costs and also typically reduces energy consumption by 35-45 percent. We had an Air Source Heat Pump installed as for every 3 to 4 units of energy produced from an air source heat pump, only 1 unit of electricity is used which significantly reduces carbon emissions compared to coal or electricity based heating systems.
Changing and showering facilities were incorporated into our design plans to encourage more walking and cycling to work, and these are now regularly used by employees.
.
2016
Our CEO, Ashley Sowerby, took the plunge into EV's with a Tesla model S and after 6 months of EV ownership shared 'I'm feeling more positive about the experience than ever. I've long been a supporter of low-emission technology and since driving the EV I have become resolute in my conviction that this is the motive power of the future.' and we can confidently say that he was right in his predictions!
We also had our first EV charger installed at our UK HQ to provide a charging point for Ashley and to encourage an uptake of EV's for our employees, we now have 3 AC chargers to date.
2019
In 2016 we joined the Go Ultra Low scheme and committed to ensuring that at least 5% of our fleet was electric by 2020. However, by 2019 over 50% of our vehicles matched the green fleet credentials!
We participated in the WLTP challenge, a 1-day economy driving event which provides the opportunity for the UK's vehicle manufacturers to prove the real-world fuel efficiency of their vehicles, whether powered by petrol, diesel, hydrogen or electric.
We also switched to LED lighting as this can create as much as a 60% to 70% improvement in energy efficiency. The environmental benefits of LED lighting also extend to their manufacturing process as no mercury is used internally and no special handling is required once they reach the end of their lifespan.
.
2020
By 2020 100% of our vehicles met green fleet green fleet credentials! This included the Tesla models S and 3, a Mercedes-Benz PHEV, Volkswagen Golf PHEV and a Hyundai PHEV.
We also made the switch back to glass milk bottles for our office supply as once consumed they get returned for reuse and over their lifespan they require less energy per use than plastic.
2021
In June we began a data collection process with Carbon Footprint Ltd to calculate our annual carbon emissions and achieve 'Carbon Assessed' status.
In October we received the final report, outlining our annual carbon emissions with a detailed breakdown highlighting the most significant emission sources, as well as recommendations on how we could reduce our greenhouse gas emissions.
With this information we joined forces with MoreTrees, the eco-tech platform that enables you to plant trees, take climate action and support sustainable development. We calculated the amount of carbon we were required to sequester to offset our annual emissions. And then purchased carbon credits which retired 58 tonnes of carbon with the UNFCCC, meaning we are now carbon neutral!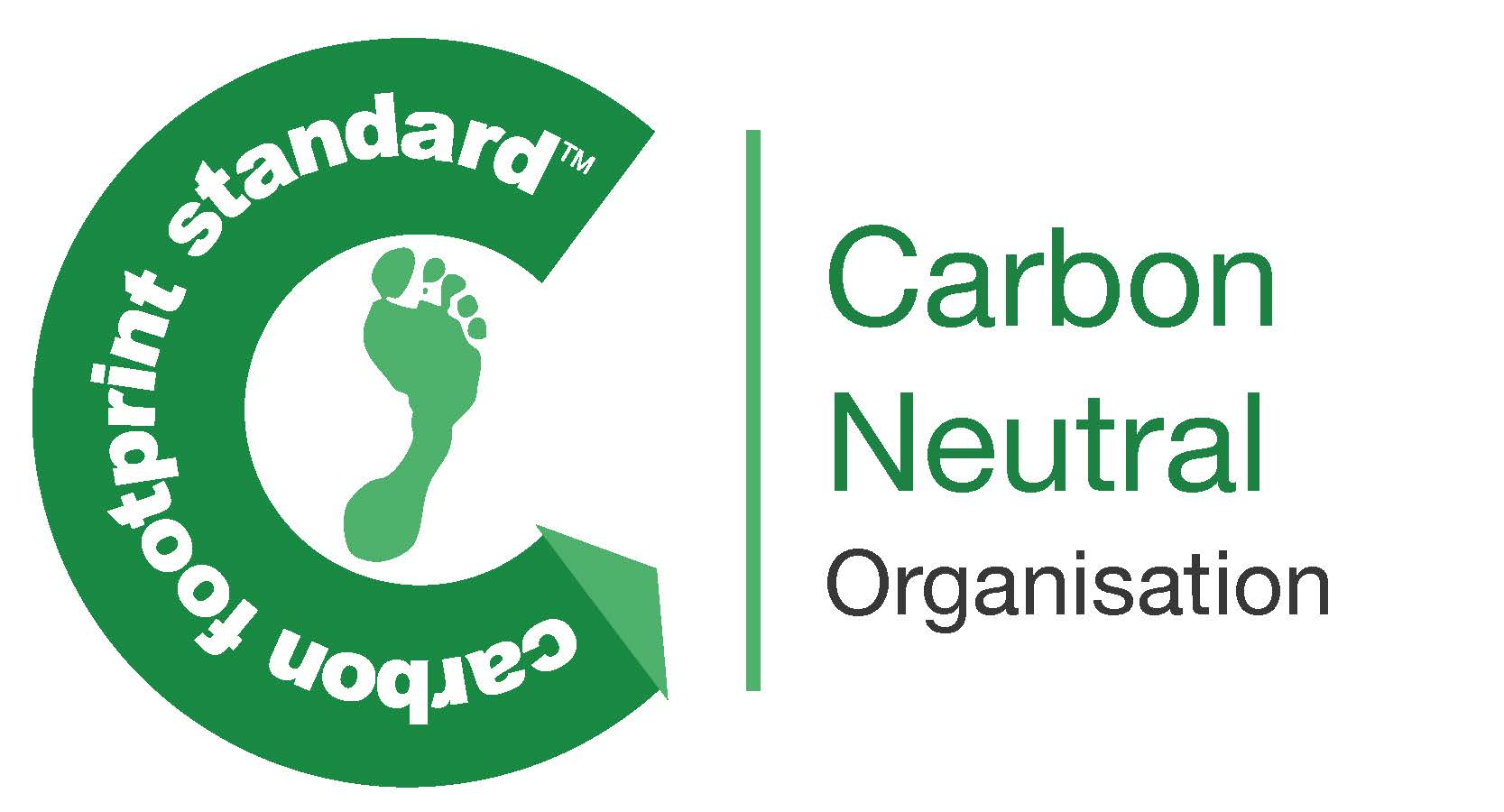 At Christmas we decided to replace corporate gifting with planting each of our customers a tree as many unwanted gifts end up in landfill. Planting trees helps sequester CO2 emissions whilst contributing to the UN Sustainable Development Goals. In 2021 our Christmas gifts offset 44.4 tonnes of CO2!
2022
In March we decided to go digital with our brochures! Paper is a significant driver of deforestation and 70% of the world's plants and animals that live in forests and are deprived of their natural habitats because of this. By going digital with our brochures we are saving on average 4,800 sheets of paper per year, that's half a tree!
We also decided to go green with our event giveaways. Promotional giveaways are often single use and made from plastic or other materials that have a high production impact, and will likely sit in landfill for hundreds of years. So we replaced them with digital content in the form of brochures and fact sheets accessible via QR codes. As well as the ability to schedule a free product demo with our team, and the chance to win prizes after engaging with our stands.
At the Chevin Annual Conference 2022 our welcome packs provided our customers with both purposeful and sustainable items to be used during the event. In partnership with BambuuBrush we provided reusable water bottles, biodegradable toothbrushes and climate neutral dentatabs along with a plantable notebook and pen!
The reusable water bottles from BambuuBrush were so popular that we also brought some for our global staff, to help reduce single use plastic consumption.
In 2022 we electrified our fleet! Our current fleet of company vehicles is made up exclusively of BEV and PHEV vehicles, with over 80% of our UK fleet being BEV's and over 50% globally. We now have a total of 3 AC chargers and are able to provide charging facilities to visitors at our UK HQ, so we can support other businesses that have made the swap to EV's.
At Christmas we also planted each of our customers a tree again, which offset 62 tonnes of CO2!
2023
So far this year we have launched our 'Trees for Fleets' scheme, in which we plant 10-50 trees dependent on fleet size for all new customers, and going forwards we plant a tree each year they remain a customer.
These trees are planted under the client's name, to target their scope 1 emissions. So by investing in FleetWave users are contributing to offsetting emissions created by the fleet industry. For example, 1 tree offsets around 0.3 tonnes of C02, which is the equivalent to 732.90 miles in a standard car.
To date we have planted 448 trees, including 355 trees for clients which will sequester 134.4 tonnes of CO2, the equivalent of 328,339 miles.
By planting these trees we are sequestering CO2 whilst providing co-benefits such as water filtration, shelter, food sources, poverty alleviation and biodiversity.
Next Steps
We have a proud history of environmental achievements and we are continuously setting ourselves new environmental goals to help build a better future and inspire others.
The data from our latest carbon footprint appraisal will be used to develop a carbon reduction strategy in collaboration with More Trees, as we continue to find ways to reduce our carbon emissions.
RESOURCES
You may also be interested in